---
---
Take a break from holiday decorating—and admiring—while still enjoying everything you love about your Hallmark Keepsake Ornaments with this twist on the classic Monopoly game. Everything from the seasonal board to the collectible tokens are Hallmark-themed so you'll experience all the thrills of the beloved board game in Keepsake style. Makes a perfect gift for fans of the classic game and anyone who loves collecting and decorating with Christmas ornaments.
Hallmark Keepsake Ornament edition of the classic Monopoly board game.
Includes: Gameboard, 7 collectible tokens, 28 title deed cards, 16 Santa's Surprises cards, 16 Yuletide Treasures cards, 2 dice, 32 cottages, 12 Hotels renamed "Shops," 1 pack of custom Hallmark money, rules, Keepsake Ornament history insert.
2-6 player.
Ages 8+.
Box: 15.75" W x 10.5" H x 2" D
HASBRO and its logo, the MONOPOLY name and logo, the distinctive design of the game board, the four corner squares, the MR. MONOPOLY name and character, as well as each of the distinctive elements of the board and playing pieces are trademarks of Hasbro for its property trading game and game equipment. ©1935, 2021 Hasbro. All Rights Reserved.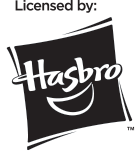 ---